Workman regularly explores the market for specialists in the delivery of healthier workplaces, for the wellbeing of occupiers.
Here, we present our top Health and Wellbeing Innovators. These are just a few of our most innovative partners, each of which has developed an enviable reputation for going above and beyond in the quest for achieving ESG goals through improving health and wellbeing in the built environment.
Indoor air quality in healthy buildings
Indoor air quality (IAQ) is becoming an increasing concern for occupiers and their employees, as well as UK government. As demand for mandatory reporting grows, it will inevitably lead to increased pressure for building owners, developers, and occupiers to improve the IAQ in their spaces. If employees can see they're being exposed to high levels of pollutants, they are likely to demand solutions, to ensure they are working in a healthy space.
Using the latest sensor technology, AirRated collects detailed information about a building's IAQ, then grades it based on leading medical research and industry best practice.
During a three-week monitoring process, the latest sensor technology is used to monitor five key parameters for IAQ: humidity, temperature, carbon dioxide particulate matter 2.5 (PM2.5) such as dust and vehicle exhaust, and volatile organic compounds (VOCs), which comprise a wide range of chemicals and may be emitted over periods of weeks or years from construction and furnishing products such as sealants, paints and cleaning products.
This process determines a building's AirScore, which provides certification for indoor air quality, and is fast becoming a global benchmark for IAQ. By giving buildings an AirScore, owners could benefit from higher rental premiums, future-proofing against policy changes and reassuring occupiers on a highly relevant issue.
Francesca Brady, CEO at AirRated, says: "Indoor air quality (IAQ) has quickly become a topic of utmost interest for occupiers when looking to find office space. This shift in occupier demand and expectation has accelerated the adoption of IAQ monitoring by landlords. At AirRated we believe it is important not only to monitor indoor air quality, but to also understand the data to develop actionable insights and effectively communicate the quality of air in spaces to the people who use them. For many of our clients, transparency and visibility is key to offering assurances of a healthy and productive work environment, whilst also actively exercising duty of care over occupiers. IAQ monitoring is not yet commonplace; in buildings where this is practised, there is a huge opportunity for landlord-occupier engagement. Improvements to IAQ and maintaining good IAQ is the responsibility of both the landlord and occupier(s), for different reasons, requiring both parties to work closely together to optimise the workplace."
Wellbeing initiatives for a healthy culture
Driven by a desire to deliver fresh and meaningful front-of-house reception and concierge services, St James Business Services specialises in conveying a professional team spirit that reflects its clients' culture. Its capabilities, resources, and initiatives are culturally aligned to create an outstanding experience for its clients.
Having the right teams on the ground is vital to the delivery of successful initiatives and events, and St James is a key partner in delivering wellbeing initiatives onsite. Across Workman's Welcome portfolio of properties, the St James team has collaborated with a raft of service providers to curate and deliver regular programmes of wellness events. Most recently these have been designed to welcome occupiers and their employees as they return to their workplaces.
St James trains its teams to ensure they not only greet everyone with warmth and respect, but also that they are equipped with relevant site knowledge, whether emergency procedures or understanding the needs of occupants. With its joined-up, dynamic approach, St James grasps the importance of understanding the logistics of a building or property portfolio, so its teams can promote the best features and manage any potential limitations.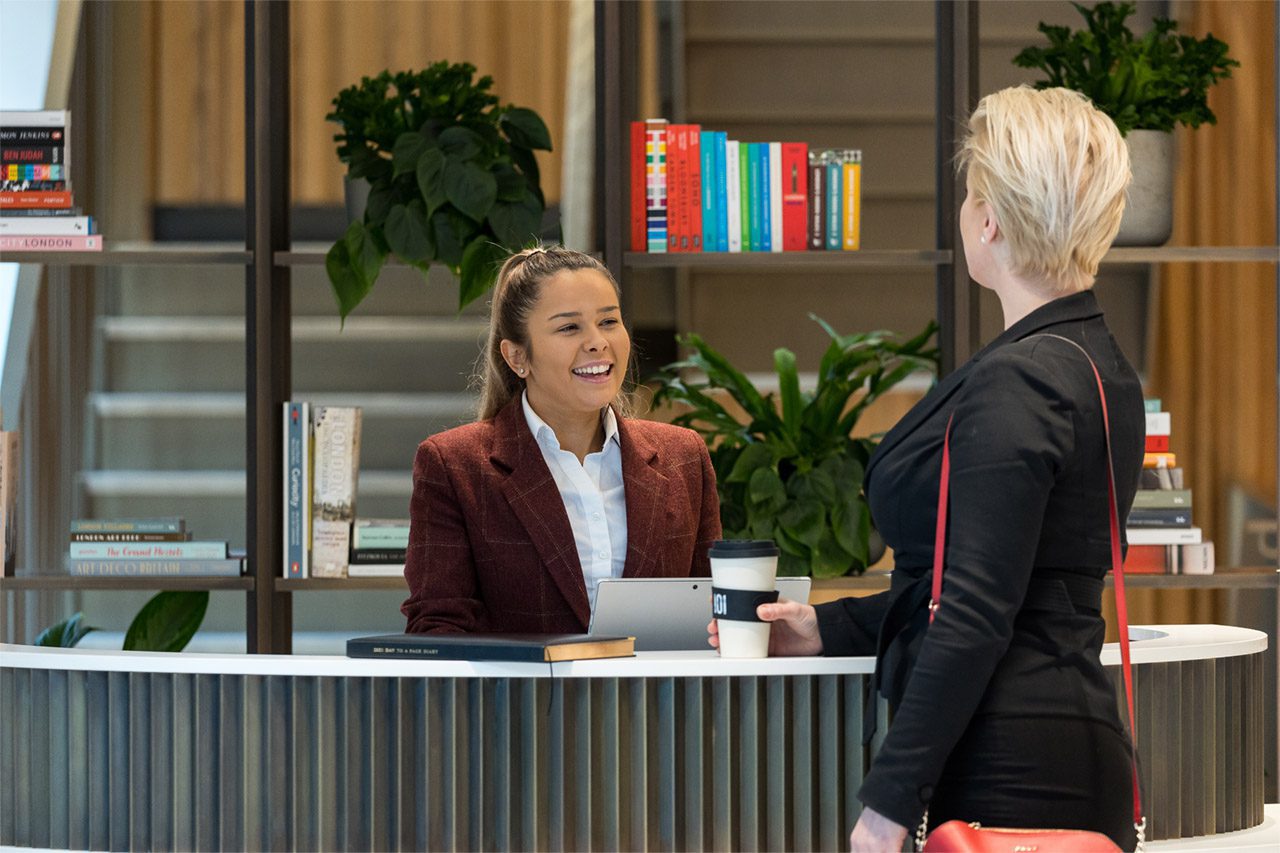 Mental health support for office teams
Flourish Health & Wellbeing
Over the past two and a half years, Flourish Health & Wellbeing has been providing mindfulness sessions at Workman managed Birmingham Business Park. During this time, many of the employees onsite have attended weekly lunchtime sessions to support themselves in finding practical ways to relax and unwind. During the past eighteen months, these have all been provided online.
In addition, bespoke face-to-face training and webinars have been delivered to a number of the occupiers onsite, including Citizen Housing and Rolls Royce. Themes have included: stress management, resilience, responding to change, and self-care. Specific webinars have also recently been created in order to support employees post-pandemic, and in their gradual return to the workplace.
In addition, Mental Health First Aider and Champions courses have also been delivered during the past year, on behalf of occupiers looking to support the wellbeing of team members across the site and to equip employees with a toolkit in support of their mental health.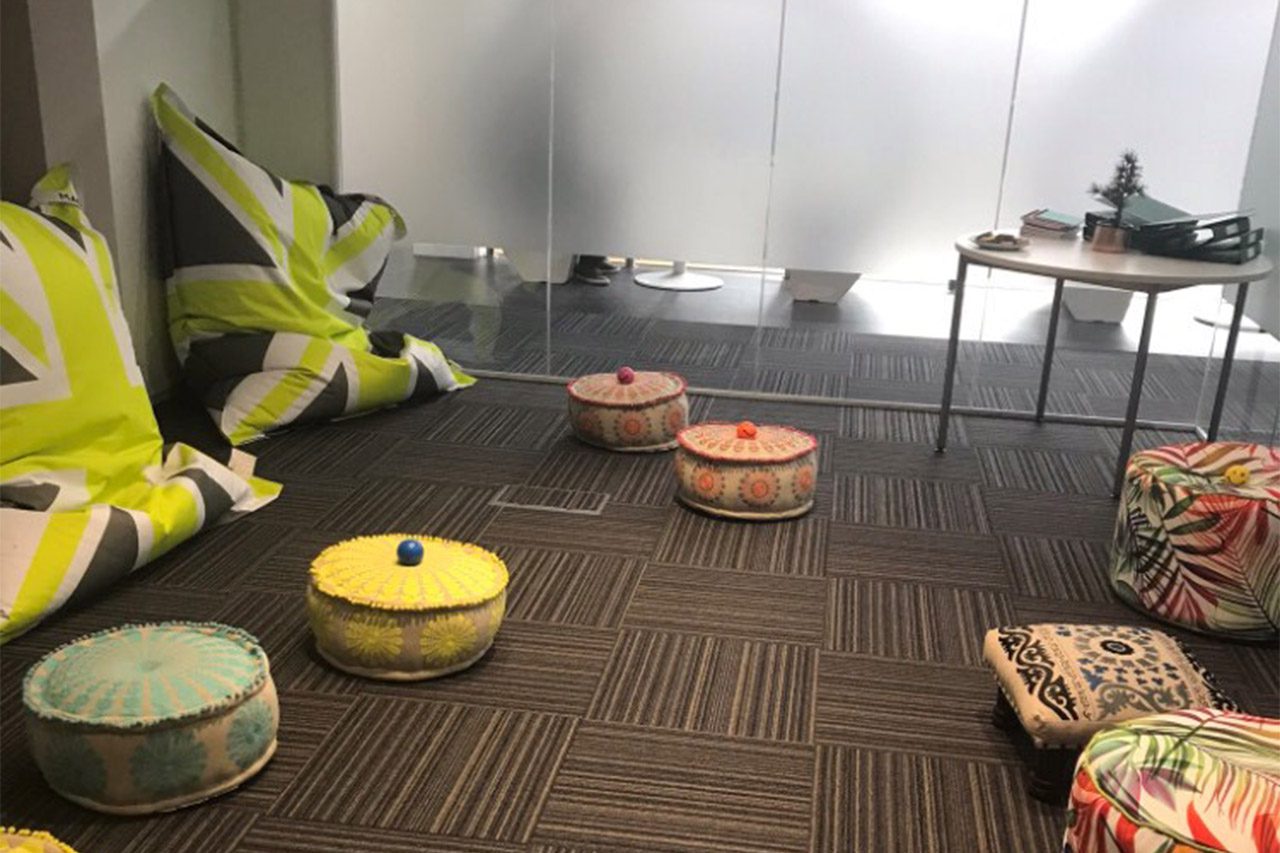 Movement and nature for health and wellbeing
Over time, small changes every day are proven to deliver a positive impact on wellbeing. Focusing on mind and movement, Your Healthy Steps delivers Tai Chi Qigong sessions and outdoor walks at the Workman-managed Birmingham Business Park.
Described as a 'moving meditation' Tai Chi Qigong sessions can be done standing or seated and can lower blood pressure, improve balance and strength while also allowing the mind to quieten. Taking time out to just stop and breathe has been vital during covid lockdowns, when sessions have been delivered virtually. Your Healthy Steps usually limits in-person sessions to around 15 participants, but has had 120 people join via Zoom for one occupier.
Your Healthy Steps also runs a monthly 'Netwalking' session, designed to give those working at Birmingham Business Park the opportunity to connect with others in a new way. Not only is it a positive opportunity to socialise, but spending time in green and blue spaces, known as 'ecopsychology', has been shown to have a positive effect on wellbeing.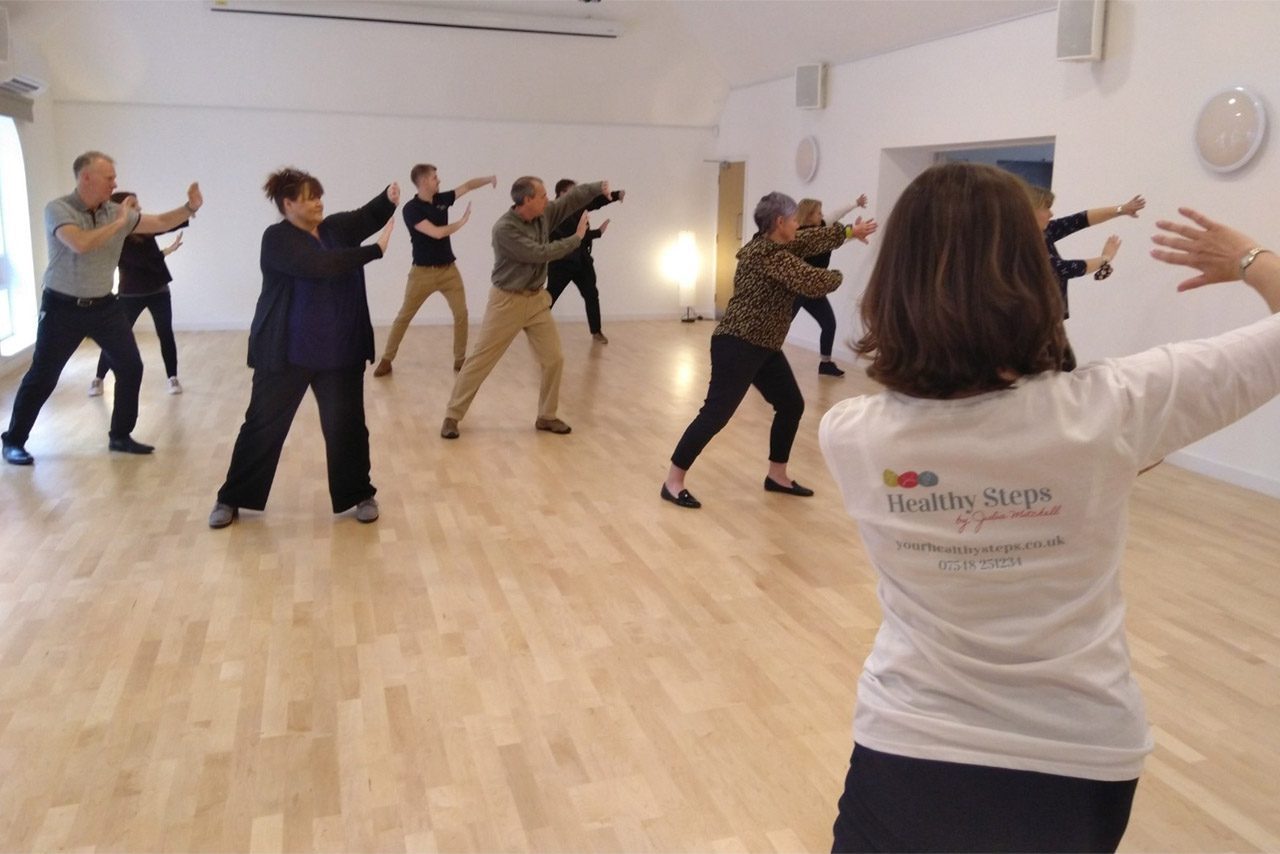 Doing it for the kids
Boys & Girls Nursery
Boys & Girls Nursery, a family-run group of nurseries, operates an impressive setting at Workman-managed Croxley Park, a thriving community of more than 60 companies and 2,400 employees.
The nursery, which provides day-care for children aged three months to five years, offers a 10% discount for employees working at Croxley Park. It boasts outdoor space including a covered playground and role-play hut, facilities which allow the children to enjoy the benefits of outdoor play in all weather.
The nursery strives to provide a nurturing, fun environment for children to grow in, and includes educational visits from members of the community such as firefighters, animal charity workers, and local dentists, in order to expand children's understanding of the important roles they play. The nursery also offers weekly French lessons and nutritious meals cooked daily in its own kitchen.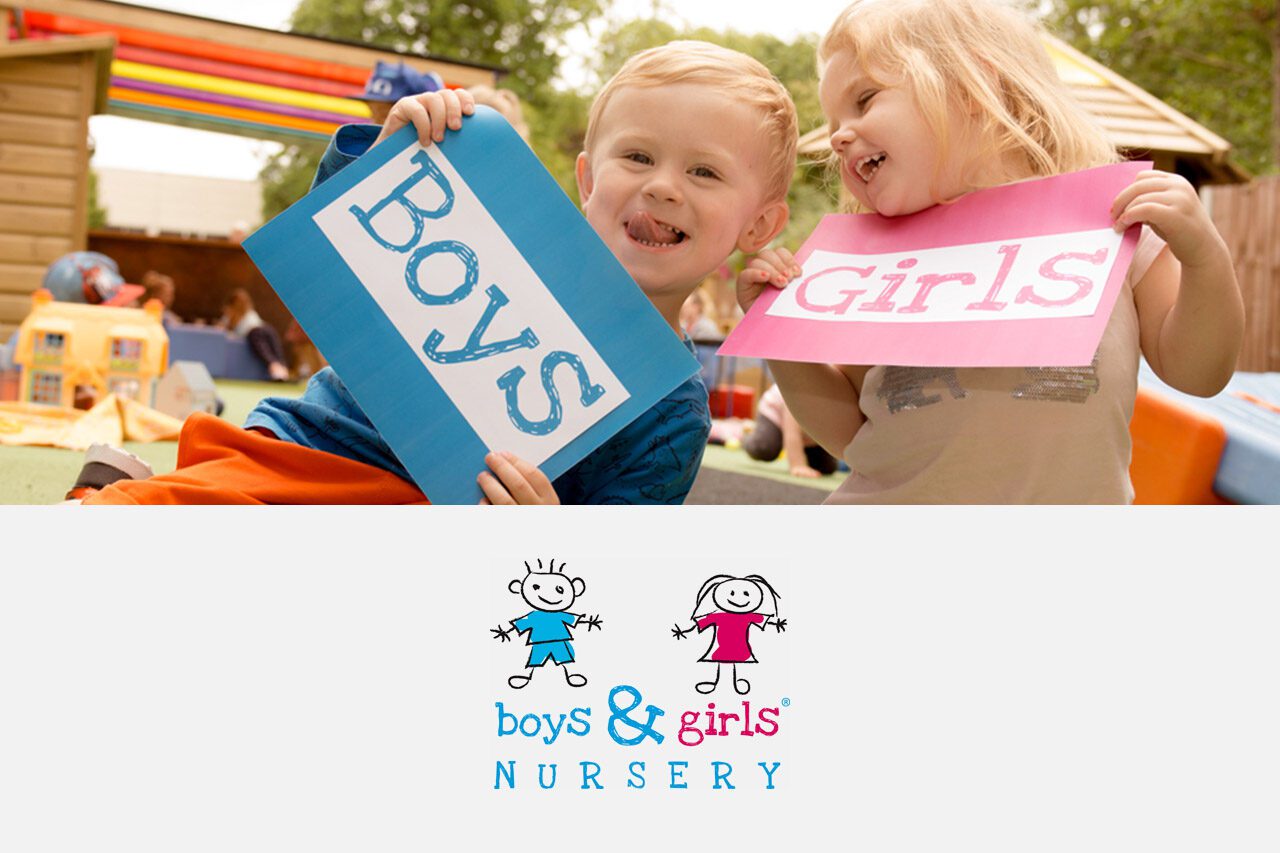 Smooth ride to health
Being Good / Love Smoothie Bike
Instead of a dull lecture on the benefits of healthy eating, smoothie bikes involve the individual in a fun way, to physically use their own body to produce a healthy drink. So why not add some healthy interactive fun to wellbeing events with vibrant custom-built smoothie bikes, like those provided by Being Good?
Options range from simple bike hire through to a bike hire package including ingredients, staff and delivery. Being Good, which provides smoothie bikes at Workman wellness events, also offers a menu of activities and workshops to complement their bikes, to physically demonstrate the benefits of healthy eating and exercise.
Not too strenuous and at around a minute to complete, virtually anyone can take part. The smoothie bike is a great leveller, no Lycra or training required. It brings out the kid in most participants and the vast majority of people have a big smile on their face as they pedal-blend their smoothie – the perfect reward.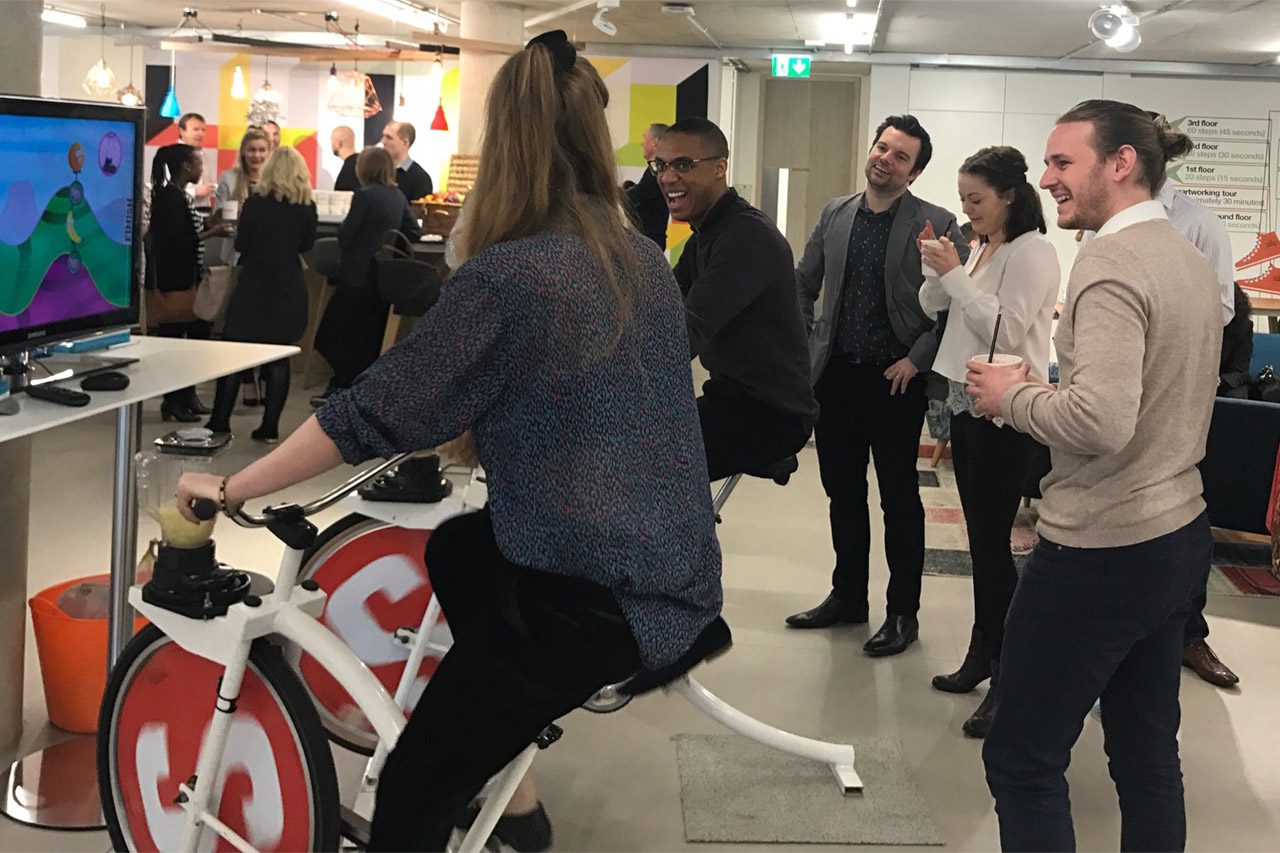 Going green with biophilia in the workplace
Planteria strives to improve wellbeing, and make the workplace a happier, healthier, more beautiful place to be, by boosting biophilia.
Research by the Mental Health Foundation found that nature played an important part in coping strategies during Covid lockdowns. Going for walks outside was one of the top coping strategies, with 45% of people reporting that being in green spaces had been vital for mental health.
It sounds simple: to be happier and calmer, spend more time outside, in nature. But as a nation we spend 92% of our lives indoors, the weather in the UK is unpredictable and then there is work, which for most is easier to do from a desk, with a power source.
What's the answer? One solution is to increase wellbeing and reduce stress levels with biophilic design. By including plants in the work environment, the connection to nature is heightened. Planteria works closely with Workman, to improve indoor and outdoor workspaces with beautiful plants, moss walls, and greenery.
Whether a terrace or break-out area, it's possible to enliven it with practical solutions, and advice on the best type of planting for the space. Planteria experts then install the plants and provide regular maintenance to ensure everything stays green and healthy – improving wellbeing and making the workplace a happier, healthier – and more beautiful– place to be.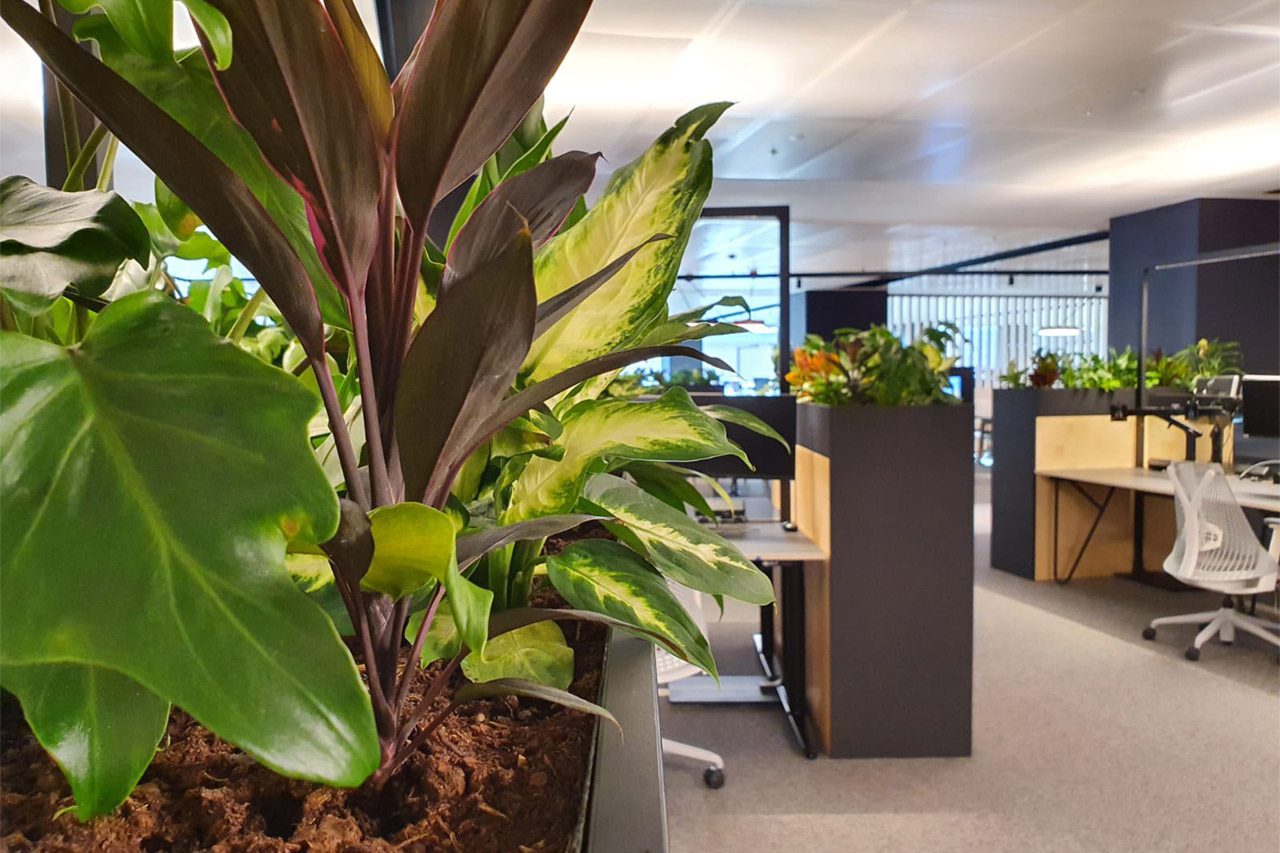 Read more about the impact a building can make on the health and wellbeing of its occupants and our in-house publication 'Building Wellbeing' here.
Read more about how important biodiversity is in the built environment and our in-house publication 'Building biodiversity for a better world' here.
Read more here about our ESG services.