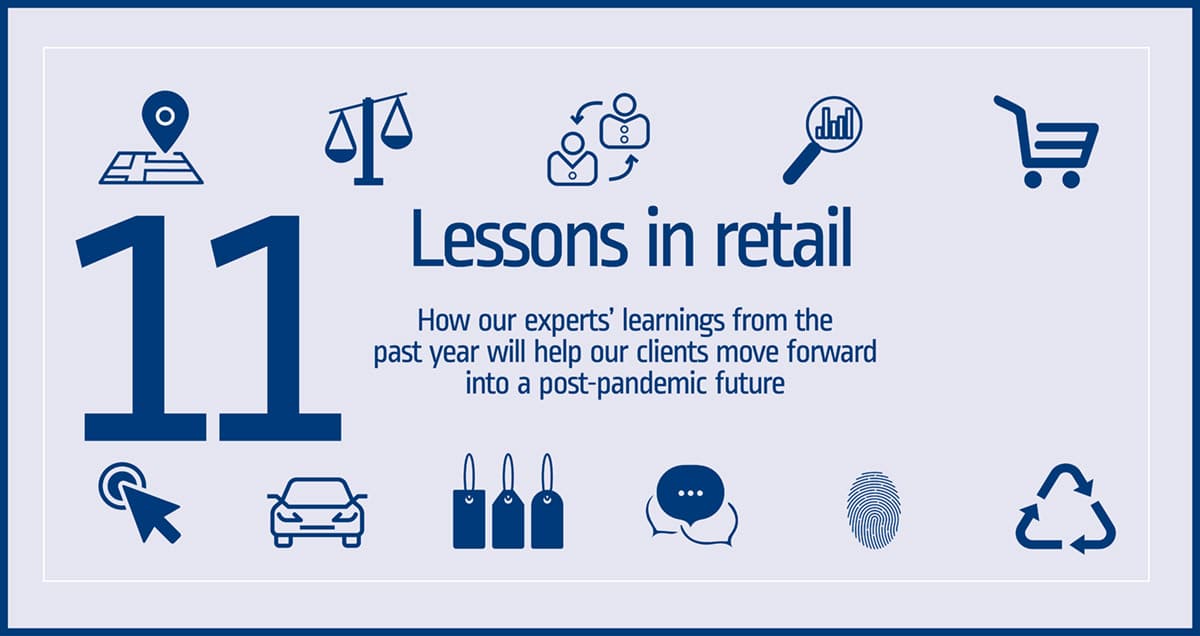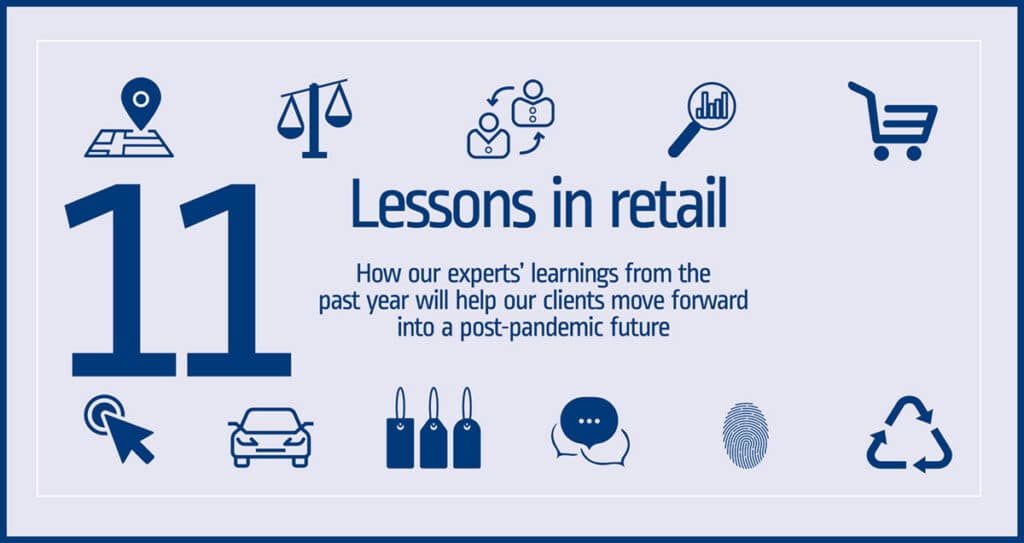 The aftershocks of Covid-19 are set to affect the retail industry well into 2021 and beyond. We asked our retail experts what they've learnt over the course of the pandemic, and how the accelerated changes will reshape the future of retail.
1. Keep it local
Says Esther Worboys, placemaking manager, Activate, and High Street Task Force Expert
Customers are staying local, and despite the shift to digital channels seen since the start of the pandemic, small independent stores rang up 69% more in-person sales in the three months to 20 June (Kantar). Chains with stores on local high streets also did well, with Iceland and the Co-op each recording sales increases of more than 30%.
Separate research from Nielsen analysts found that 25% of consumers were visiting local stores more than they did before the pandemic, which has prompted a clear shift towards shopping closer to home. Indeed, Workman has supported pop-up florists, local galleries, and independent artisan food producers, running their businesses in empty shops in locations including Putney, St Albans and Burgess Hill.
Engagement with customers is often driven via social media marketing of local shops and community shopping centres, which place schemes at the heart of the neighbourhood. At the Workman-managed Great Northern shopping centre in Manchester, a Grade II-listed warehouse, public square, and the longest Victorian terrace in Europe, street art "This too shall pass" has drawn interest, press coverage and visits from the local community.
2. Find the occupier engagement balance
Says James Ballantyne, Associate, Workman
The difficulties of the past year have been the catalyst for changes in attitudes that are heralding new, more collaborative ways of working, with a rebalancing of the relationship between landlords and occupiers. The evolved iteration of the landlord-occupier relationship is exponentially more collaborative than ever before. Of course, strong occupier relations and services leads to better retention.
The pandemic has meant that Workman has engaged with occupiers more than ever before, developing an even deeper understanding of occupier requirements and occupancy costs. We are reviewing more tenant accounts and analysing trading data in more detail. Our role has extended to supporting occupiers by outlining the financial support packages on offer, and we have assisted in lobbying BIDS. This has enabled us to agree rent concessions, mitigate service-charge costs and agree payment plans that satisfy the needs of both landlord and occupier.
3. Flexible friends: why tailoring service charges works
Says Gareth Soar, Partner, Workman
It is clear there's no one-size-fits-all approach to service charge management. During the pandemic, our property management teams at Workman have applied their knowledge and experience to ensure that services provided remained fit for purpose. Non-essential services have been reduced, meanwhile teams have ensured that statutory compliance, security and the safety of public, occupiers and site staff is not jeopardised. Of course, service charges need to be managed in a way that balances the pressure on overall occupier costs with the challenges of responsible management.
This bespoke, asset-level approach to service charge management is key, and we have sought to achieve savings where at all possible. Advantageous procurement relationships have been created as a result of our consolidated preferred supplier list, and this strategy results in a better service for our occupiers across our managed portfolio.
Through close communication with all stakeholders, our key objectives remain to ensure the properties under our management are safe, properly maintained and inviting, for the benefit of occupiers and their customers.
4. Data doesn't lie: watch shifts in consumer behaviour
Says Frances Hardcastle-Brown, Senior Associate, Workman
Data can make retail property management more effective, and with the use of technology to analyse shifts in shopping patterns; site team rotas and service delivery can be adjusted accordingly to ensure more staff are available at popular times of the day. Technologies that enable the monitoring of footfall, quantify the catchments of retail destinations and identify the times at which people are shopping, are becoming more and more sophisticated. In line with changed shopper habits, many retailer trading hours have altered, given that Saturdays and Sundays may no longer be the peak visiting times for the majority of shoppers.
Heat maps enable measurement of dwell time and the effectiveness of advertising initiatives, giving occupiers concrete data about where to place adverts or display booths for the most attention.  Mobile technology can also enable the collection of data on the gender and ages of visitors, while tracking customer flow and understanding the customer navigation progress
Live data feeds from facilities such as Springboard and Parking Eye allow for the monitoring of visitors at any one time, also essential due to Covid social distancing regulations. Footfall counts often inform the rental rates of different areas. And at Workman we have worked with one client to develop a bespoke turnover-based rent app based on live footfall data.
5. For robust retail, get out of town
Says Nick Hilton, Partner, Workman
A predicted drop in commuter numbers, combined with a trend towards suburban home moves, has led to a bright spot in one specific retail sector: the out-of-town retail park. For the week prior to Christmas 2020, customer visits to retail parks had dropped by only 8% compared to the same week in 2019, according to BRC-ShopperTrak. Indeed, across the 150+ portfolio of Workman-managed retail parks, visitor numbers were down by just 7% in December 2020 compared to December 2019, and were only 14% less for the entire 2020 calendar year.
A major factor in the comparative success of out-of-town retail parks has been the sense of safety they provide. Shoppers often feel more comfortable in these open-air environments given the ability to arrive and leave in their own cars, take advantage of ample free parking, and the simplicity of social distancing within far-larger units.
With a strong weighting to food, homeware and other provisions deemed essential, retail parks were able to continue trading where others had to cease during lockdowns. Occupiers such as Pets At Home, Halfords, The Range, B&M, Home Bargains, B&Q, Homebase and Wicks experienced significant sales increases as consumers focused on pets, exercise, and their homes and gardens.
The out-of-town retail park looks set to continue demonstrating its resilience and proving its reputation as the safe haven of the retail industry. Its resilience hasn't gone unnoticed by investors, who ended 2020 with a flurry of retail park acquisitions, and began 2021 in the same vein, with transactional activity driven by Federated Hermes, Columbia Threadneedle, Clearbell and Tritax, among others.
6. Right here, right now: prize the value of onsite teams
Says Steve Moran, Associate, Workman
In the face of changing and challenging Covid regulations, centre managers have been consistently on-hand to work with occupiers and help them pivot in order to keep trading. Quick changes in lockdown rules, and the introduction of regional tiers, meant that changes had to be communicated and implemented within much tighter timescales than usual.
With some schemes fully locked-down and some schemes trading, a bespoke, asset-level property management approach was required. The speed and agility demonstrated by our onsite property managers was invaluable to the retailers they worked with. Covid-19 lockdowns required a review of all 150 out-of-town retail, shopping and leisure parks under Workman's management. While some of the leisure schemes closed entirely, others with exposure to essential retailers became busier due to shopper preference for out-of-town. Being present on the ground, has also enabled our onsite teams to realise opportunities for diversification; the introduction of barbering pods at Manchester Fort Shopping Park, for example, has driven a rental income increase of £100k+ at the site.
7. All hail click-and-collect
Says Nick Hilton, Partner, Workman
The pandemic saw traditional bricks and mortar retailers embracing online ordering, even if it was only in a hybrid fashion. Retailers including Currys PC World, which implemented a QR-code model, along with Aldi and Dunelm, which both implemented a car-side delivery model, benefitted from their ability to pivot to click-and-collect.
When click-and-collect has been allowed, Workman has partnered with retailers to enable them to provide it. Alongside Activate, the Workman placemaking and marketing division, our team revised online and marketing strategies to ensure these assist retailers and are appropriately targeted to the local market. Towards the end of 2020, with fast-moving changes to local tiers, the ability to leverage this joined-up approach and interact with customers via social media was critical.
Working alongside the Activate team, the launch of online consumer marketing and social media management services has been achieved across the Workman out-of-town portfolio, including all nine Derwent retail parks and Vangarde Shopping Park in York.
The click-and-collect trend has also extended to rapid delivery of groceries, which we have also been able to facilitate. When Morrisons expanded its online grocery delivery service via Amazon Now to offer same-day delivery to more than 90% of Greater London postcodes, the Peckham store at the Aylesham Centre was internally reconfigured to create a new pick-and-pack area and construct an external collection zone within the car park. Workman's retail and building consultancy specialists worked together with Morrison's project team to develop a proposal that reviewed a number of technical considerations including increased power capacity and car park reconfiguration to ensure optimum vehicle flow. Serviced by Amazon couriers, Morrisons is now able to operate a home delivery service for the south London area from the Aylehsam Centre.
8. Make turnover rents a success
Says Georgina Grazebrook, Partner, Workman
Not only do landlords and occupiers need to work together differently to negotiate new rental terms, rent concessions and deferments, they also must make turnover-based rents viable for both parties. Covid-19 has pushed retailers to seek rent and lease concessions, which has, in turn, accelerated the retail property industry's adoption of flexible leases and turnover-based rents, as highlighted in this article I wrote for Property Week.
At Workman, we have been managing this turnover-lease approach for our clients for a number of years. Successful implementation of turnover-based occupancy is reliant upon several factors, including: the use of technology to attain transparent sales, footfall and car-counting data; analytics that allows evaluation of footfall conversion, sales density per sq. ft and peak trade periods; active diary reminders for turnover certificate due-dates so that occupier engagement can start early on; turnover calculations undergoing a three-tier approval process to ensure accuracy. We are also seeing a trend that pushes the notion of turnover-based rents even further: monthly adjusted rents that are based entirely on footfall or customer data.
In the coming years, new retail formats will enter the market and there will be much more use of turnover-based rents and pop-up / short-term lettings. For example, we have seen that shipping containers provide a very flexible and fashionable option for both meanwhile and permanent uses.
9. Speak the language of insolvency
Says Saagar Sachdev, Senior Associate, Workman
With recent headline-grabbing CVAs and administrations from the likes of Caffè Nero, Pizza Hut, Clarks, Arcadia and Debenhams, our expert teams at Workman have been managing high numbers of insolvency processes, meaning they have developed a comprehensive understanding of the challenges and are well-placed to deal swiftly with issues that arise.
Detailed CVA documents need to be deciphered by experts with specialist understanding, ability and experience, especially as many cases include elements of turnover rent. Each CVA is different, so interpretation and implementation of these individual situations is a specialty within the Workman teams, who are adept at extracting details such as break clauses, effective dates, concession rent periods, compromised arrears, and dilapidations. Since the volume of this work has increased, Workman has streamlined the management of several processes to bring further efficiencies.
In terms of administrations, such as the high-profile cases of Arcadia and Debenhams, billing is adjusted in accordance with administrators' requirements, but this can be complicated further due to lockdowns, when the retailer is not technically in occupation. In these complex situations, Workman teams deal with unoccupied insurance requirements to mitigate risks.
Ultimately, Workman teams have demonstrated a capacity for flexibility, thus protecting our clients. Of course, CVAs and insolvencies are worst-case scenarios, but with an uncertain future ahead, these are issues we are prepared to tackle head-on.
10. The personal touch: on-the-spot property management makes all the difference
Says Zakir Mangera, Associate, Workman
The ideal property manager doesn't just hide behind data, they take a hands-on approach, ensuring that on-the-ground intelligence is properly communicated and translated into real-time action. During lockdowns, our property managers were especially dedicated to visiting their sites regularly and maintaining relationships with the occupiers who were able to continue trading. They made sure to connect with centre managers, to check operationally how sites were functioning, not only where savings could be made, but also to make sure that sites were still safe, secure, and welcoming environments for shoppers to visit.
At Workman, we're continuously investing in our people and evolving our skillsets in response to the shifting landlord-occupier and retail property landscape, focusing our insight and expertise to help clients manage change in their assets up and down the country.
Communication levels are greater than ever before, not only between the property manager and the landlord, but also between the property manager and occupiers, client, suppliers, the community, and lawyers. What's more, our experts are acutely aware that ESG now sits at the centre of any property management strategy and are on hand to implement changes at an asset level, through our Net Zero Asset Plan.
11. Regenerate, Repurpose & Enliven
Says Andrew Sparrow, Placemaking Director, Activate
Periods of adversity often lead to positive change, and when the Covid clouds clear, hopefully aided by ongoing vaccination programmes, those returning to the new normal will bring with them a renewed appetite for togetherness. This will play out in the world of retail, where we have been working to regenerate high streets, enliven spaces and bring excitement back to town centres, as Esther Worboys, placemaking manager, Activate, and High Street Task Force expert, explained here.
Changes in shopping and working patterns means that real estate relevance must be maintained if returns are to be made. Repurposing means that new use can be accommodated in old assets. It provides an end-to-end service for clients who are proposing to create new temporary or permanent uses for retail spaces. ​
From bringing life to vacant outdoor space at Liverpool Shopping Park for Derwent, to managing a House of Fraser reconfiguration for Hammerson, Workman has a proven track record in driving complex repurposing projects throughout their lifecycle: from planning through construction, leasing to placemaking, and beyond.