Workman is performing ahead of the benchmark as of June 2020.
At 14 days past the June Quarter Day, we can report that overall rent collection stands at 68% and service charge at 63%. This breakdown of performance by sector is evident in the table below.
Comparatively, performance is slightly ahead of where we were in the same period in the March quarter. Accordingly, for this era, the performance stands at 62% and 52% for rent and service charge respectively.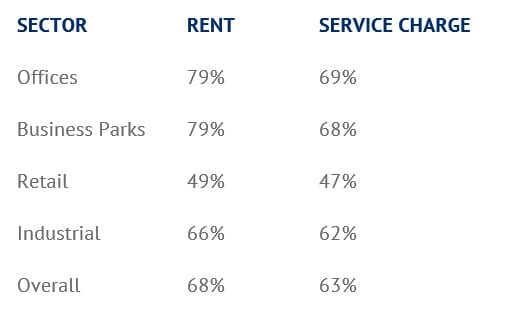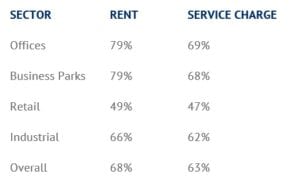 Performing ahead of benchmark
We continue to provide our aggregated statistics to Remit Consulting for inclusion in their REMark 2020 reporting which captures data across the managing agent community. Overall, our collection statistics are ahead of the Remit benchmark.
We believe that this is in part due to the strong relationships we have established with occupiers and the proactive efforts our credit control and accounting teams have made in managing the collection process.
Offices and Business Parks
Collection rates are approaching 100% at some large office schemes in prime city centre locations and overall offices and business parks continue to be the best performing sectors. There has been a 10% improvement over the past seven days, with rent collection at 79% and service charge at 69% .
Performance is marginally ahead in comparison with March Quarter Day +14, where rent collection stood at 78% and service charge at 68%.
Retail and Leisure
Discussions continue with retailers to agree deferred rents and the re-gearing of leases where appropriate. We sense a heightened level of engagement from both landlords and occupiers in this Quarter although it is still relatively early in the process and concessions continue to impact on Day 14 figures. However, we are seeing steady progress being made, with rent collected almost reaching 50% from 46% at Day 7.
Service charge has almost caught up, reaching 47% from 37% at Day 7. We believe that with retailers now trading and engaged we are finding the collection of service charge has improved although it remains a challenge for some, despite Government and industry body guidance.
Looking back at March Quarter Day +14, retail rents were marginally ahead at 53%, with service charge at 45% collected.
Industrial
The industrial sector has moved to 66% rent collected with service charge collection at 62%. As noted previously, unlike other sectors, industrial property has had a more consistent level of occupation and subsequent ability to trade. This has resulted in a comparatively decent collection rate in the quarter. Rent and service charge collection were both at 56% at Day +7. Day 14 figures in March were 60% for rent and 58% for service charge.
by Howard Evans, Head of Property Management