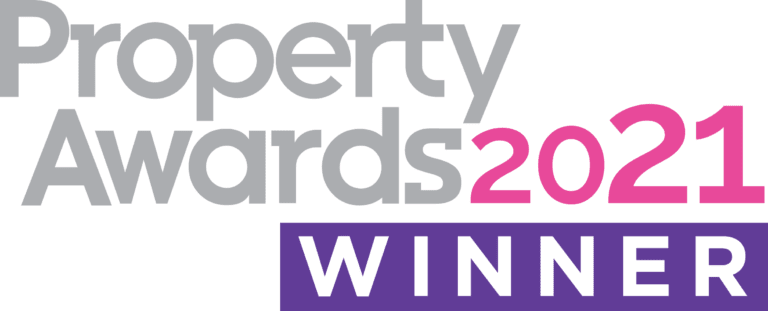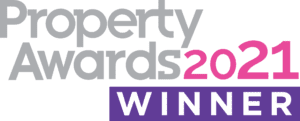 Falkirk garden project wins Property Week Award
Thanks to the ESG expertise within our Workman team, the inspirational garden project at Central Retail Park, Falkirk, has won Property Week's inaugural Health & Wellbeing Award.
In delivery of the award-winning garden project, Workman incorporated a raft of ESG services, which show that the benefits of repurposing unused space for greenery go far beyond building biodiversity.
Despite the tough challenges of the pandemic, the Workman team's creation of an urban garden in a disused service yard boosted biodiversity, occupier health, and community links. As the garden blossomed, it provided solace and a source of mental wellbeing for its creators and visitors.
We are delighted that the hard work and collaboration that went into the garden project has now been recognised by the wider industry, with the highest accolade of a Property Week Award.
Falkirk urban garden delivers mental and physical health gains
Not only has the garden blossomed, producing flowers, fruit and veg, it has also provided solace and a source of mental wellbeing for both the Workman team and occupier staff. The installation of long benches in the wildflower garden and picnic benches in the walled garden, also created by upcycling salvaged materials such as cable drums and wood left from onsite construction, have made the garden a welcoming place to spend time.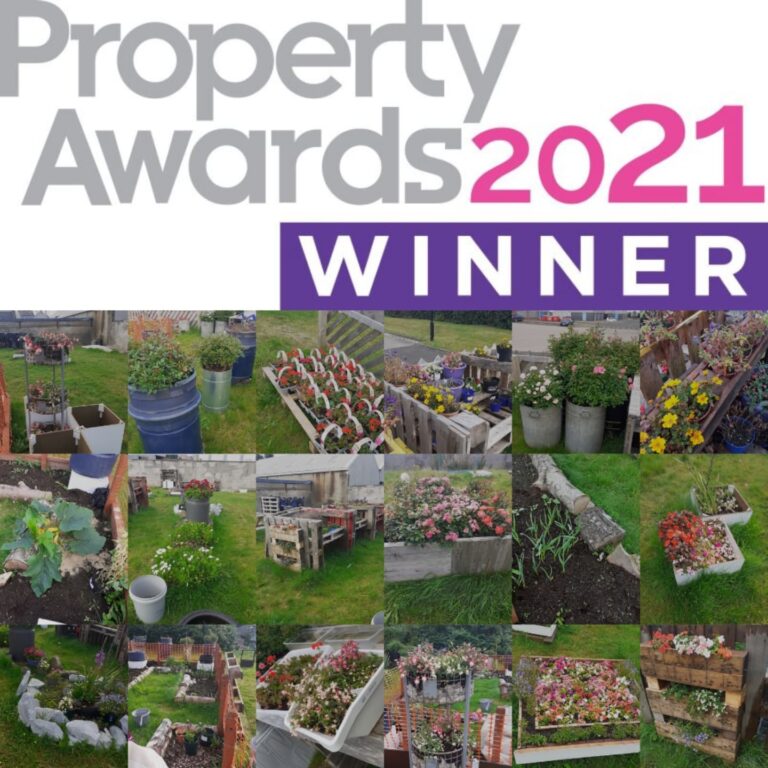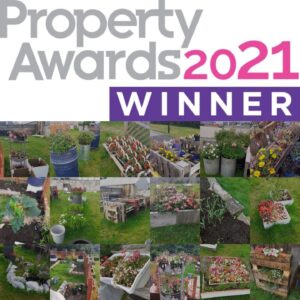 Many occupiers and contractors have used the garden as a quiet or social space at lunchtime and during breaks. Staff from the gym also use the garden for exercising outdoors. Evidence shows that a thriving, wildlife-rich environment benefits both physical and mental health. According to the Wildlife Trust, time spent in nature brings health gains such as improved mental wellbeing, increased feelings of positivity and higher levels of physical activity.
Building Community and Promoting Wellbeing Through the Falkirk Garden Project
The engagement and interest level in the garden project has been rewarding and has helped the retail park team build closer relationships with occupiers and contractors: particularly valuable during a challenging time for the retail sector and wider society. The Workman team, along with cleaning and security teams, volunteer their time in the garden, either while furloughed or during breaktimes, planting, watering, building planters and installing fencing.
Working inclusively on a shared project has been positive for team morale, while creating opportunities. Led by Park Manager, Kaye Finlay, interested colleagues have learnt about plants and basic gardening skills. Some people even volunteer on days off because they enjoy it so much. Everybody feels ownership of the garden.
One member of the security staff – a British Army veteran – felt so moved by the garden's impact on his mental wellbeing during lockdown that he wrote a letter of thanks to the Workman team. His words hit home, demonstrating the positive impact of the project on the mental wellbeing of everyone involved. The team say this benefit is the garden's most satisfying impact.
Social value: garden's community links put the S in ESG
Future plans include community gardening, youth mentoring, and 'how to' workshops to teach upcycling skills, plus forging links with local groups, tracking the increase of bug and birdlife, and creating social media content on wildlife and garden projects. Local schools are set to take ownership of sections of the garden, which they will use as curriculum-linked activities. Plans are also afoot for small community events, attracting people to the garden and the retail park.
Despite the challenges of social distancing and other Covid-induced restrictions throughout its development lifecycle, the garden has brought people together, providing a shared goal, and cultivating their health and mental wellbeing. The garden will continue to provide a place for mindfulness, exercise, learning and productivity.
All this has been achieved in a retail park, with a small on-site team, for no additional costs, in a space that many people would write off as unviable. In short, the team has created something from nothing: a biodiverse urban garden which is improving health and wellbeing during challenging times.
The garden was also recently honoured with a Gold Scottish Green Apple Award for Environmental Best Practice 2021.
Want to know more? 
Learn more about the urban biodiversity aspects of the garden project.
Find out further information on our ESG services.
Read more about our Building Biodiversity services.
See our Building Wellbeing services page here.