How social value delivers at Two Rivers
Located in Staines-upon-Thames, Two Rivers is host to more than 50 shops and restaurants including M&S, Boots, TK Maxx, Pandora and PureGym.
A community-focused shopping and leisure destination located in the heart of town, it is managed by Workman and owned by the Two Rivers Limited Partnership, which is a joint venture between Abrdn and M&G Real Estate.
The onsite property management team at Two Rivers, Staines has delivered and supported a varied programme of social value schemes over the past year, led by our Joanna Hall, Centre Manager.
Cleaning up the local community
As part of The Great British Spring Clean, the Workman-managed Two Rivers onsite property management team supported Spelthorne Litter Pickers' event through publicity on the shopping centre's social channels, as well as donating a few prizes for all the litter pickers, who collectively picked 329 bags of litter during a two-week period.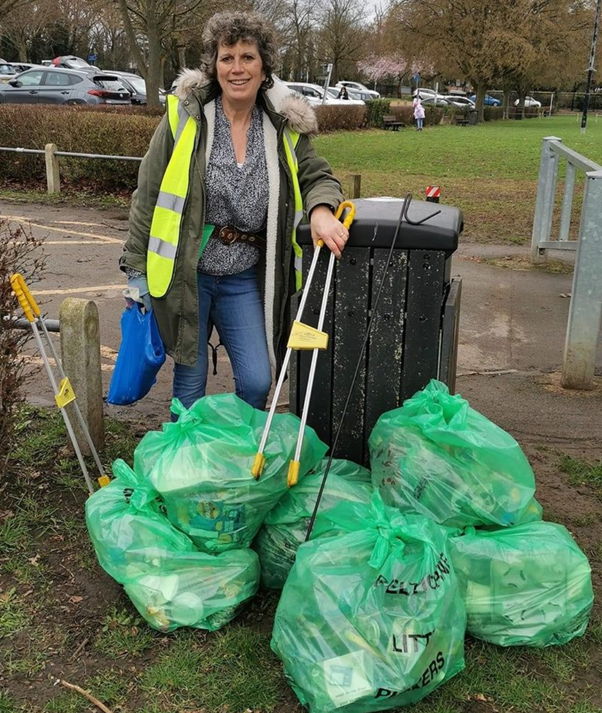 Helping families make happy memories
For the summer holidays, the centre team ran a weekly series of Memorable Mondays with free events to help parents entertain their children during the summer holidays. Events on offer included a visit from a Routemaster bus, face painting, magic show, a vintage micro-fair featuring a tin-can-alley and hook-a-duck, and a back-to-school scavenger hunt.
Building local biodiversity
The management team also supports the local Rotary Club's efforts to raise funds to support the local community. The Rotary most recently planted crocuses on the centre's riverbank to raise awareness of their Polio immunisation campaign.
Christmas outreach
For the festive season, the Workman property management team at Two Rivers collaborates with local groups including scouts, dance school, charities, who are all invited to participate in the centre's Santa Parade. This is organised in conjunction with the local Staines BID, for which Workman's Centre Manager Joanna Hall is Vice Chair on the board.
Each charity is given a shout-out on the centre's social media and offered the opportunity to come and collect in the town centre during the next 12 months.
And, at during December, the Salvation Army Band plays in the Two Rivers centre to raise awareness of the Salvation Army's toys collection for its Christmas Gift Appeal which they run in conjunction with The Entertainer. The Workman team also promotes this as part of its Christmas activities.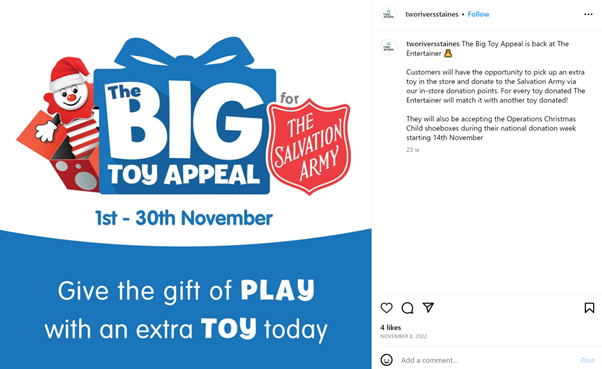 Read more about how Workman onsite property management teams deliver social value within their communities through retail assets.
Learn how Workman is Building Community within our managed portfolio.