Do tenant engagement apps really enhance the occupier experience? Or are property managers jumping on the tech bandwagon for its own sake, only to find end users within workplace communities are underwhelmed?
For building technology like tenant engagement apps to become truly integrated in occupiers' lives, it must pass the "toothbrush test", explains Eleanor Newton, Senior Associate at Workman. "It has to be so essential to the user's experience of the building that people absolutely have to download the app, and critically, that they have to use it at least twice a day," she says.
At Republic, spread over four buildings comprising 720,000 sq. ft of office, educational and retail space, the app generates a QR code for users to enter the building, much like an airport boarding pass. Meeting rooms are bookable via the app, which can filter appropriate spaces according to the date and number of guests. Visitor management is also taken care of – but here only employees who have certain privileges set up on the app can register visitors, who then receive QR codes providing access to limited areas of the building, along with directions via direct emails generated automatically through the app.
Uniquely, Republic's occupiers are a mix of universities and education providers, and financial businesses. At certain times of the year, such as September when new cohorts of students arrive, there is a pinch point which previously meant that security personnel were overstretched producing entry passes for thousands of enrolling students.
"Printing access control passes, even working around the clock, would take a couple of weeks, whereas with the QR codes, university administration staff will be able to upload the new joiners' information directly onto the app in bulk, which will generate the QR codes simultaneously, meaning far greater efficiency," says Eleanor.
Transactions for beauty and health services booked in the onsite treatment room, are dealt with via the Stripe payment system, also accessible via the app, but with payment going directly to the independent retailers. In addition, the app delivers information on upcoming events, discounts for local and onsite businesses, live travel and calendar updates, as well as providing a repository for the building handbook, fire muster points, and risk assessments, which are all accessible only to office managers.
A future additional development for the Republic app will be the capacity for occupier satisfaction surveys, along with incentives for completion, a further way in which technology can help improve occupier engagement when used effectively.
Tenant engagement apps – no one size fits all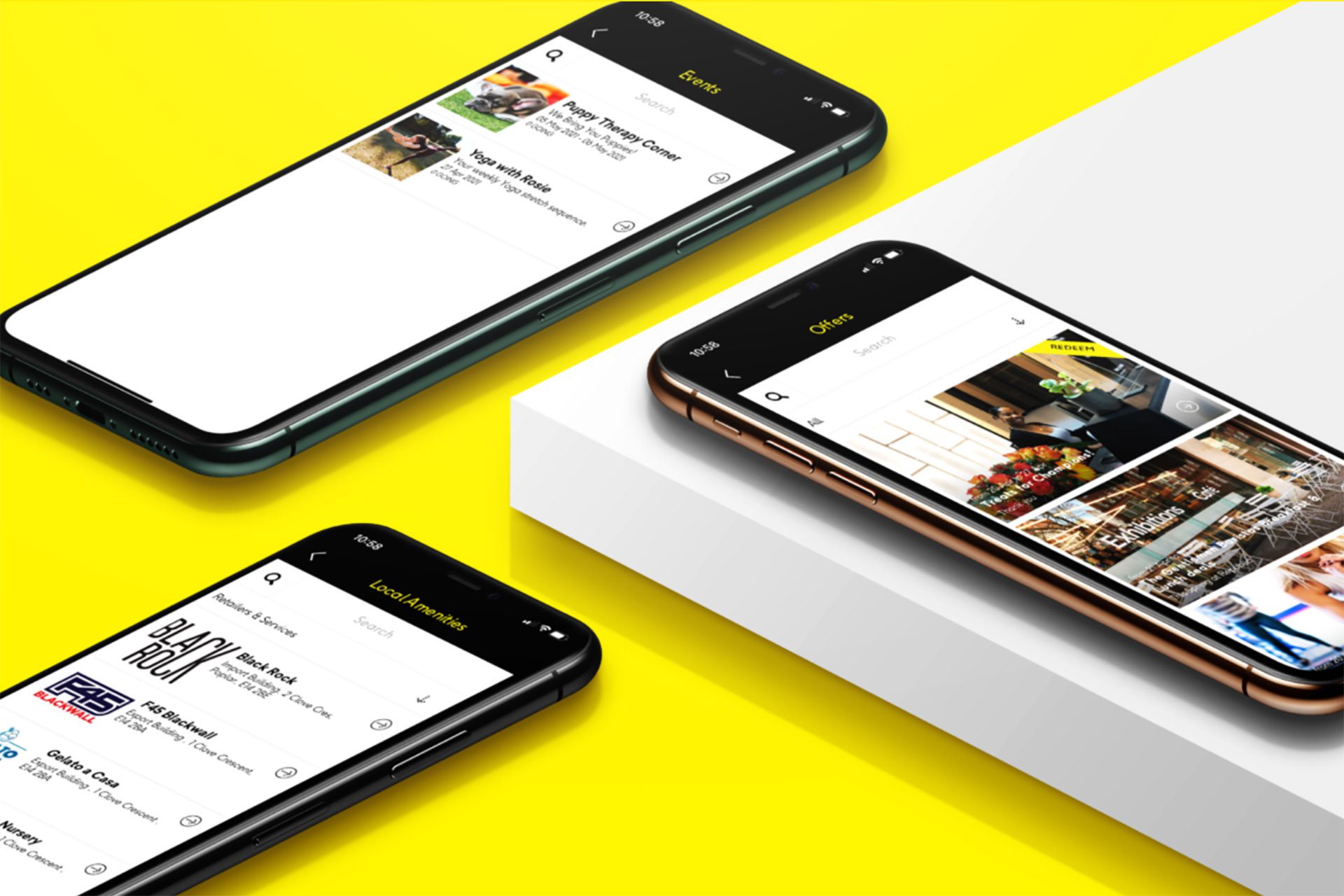 Having parted ways with a previous app that was introduced at Republic, the onsite team is well-aware that choosing the correct app for each building is key; recognising that different buildings require different service levels and have a variety of budgets available. The new Republic app, developed according to the needs of the site and tailored to its occupiers, has been rigorously tested before being rolled out to end users.
"In cases where we are creating a bespoke app for a particular building and its occupiers, the key to success is down to very regular meetings with the developers – and closely mapping out what you want from the app. There is a lot of involvement required from front-of-house and facilities management teams as well as property managers to make it work," says Eleanor.
Conversely, an off-the-shelf app has been selected for One Stratford Place, which can deliver the requirements of both landlord and occupier at a fraction of the cost of a bespoke product. For this building, which is significantly smaller and with fewer bookable amenities such as treatment and meeting rooms, the simpler product meets the occupiers' needs but also the client's budget.
And striking the balance between the two is the Park Life app at Breakspear Park, which does not go as far as access control provision, but allows users to access information about an array of benefits, amenities, and news updates, as well as fitness studio membership, and food purchases. Everything around occupier experience is driven via the app, which reinforces the sense that this is an exclusive community. And in terms of attracting new occupiers, the app is seen as a benefit.
"We never roll out a tenant engagement app just because it's working in one building. We always assess needs and requirements on a case-by-case basis, and select a supplier accordingly," Eleanor says.
At Republic, information is also displayed via digital signage displays and directory boards. This bespoke digital communications platform helps Republic support its community and sustainability programmes, as well as providing key features such as hyper-local weather and DLR departures for the two closest platforms, East India and Blackwall.
"We control 100% of the content on the digital screens. Every member of the onsite team has been photographed and there's a story about each of them on the reel, to raise their profiles and visibility among occupiers' employees. We can also communicate waste data and recycling statistics on the screens, as well as sustainability messages such as the impact of leaving monitors on overnight. And once we have indoor air quality data from the IBOS system, we will be putting that onto the screens too," explains Eleanor. "We have seen that occupiers like having direct access to information that they would otherwise have to request via email."
The rules of engagement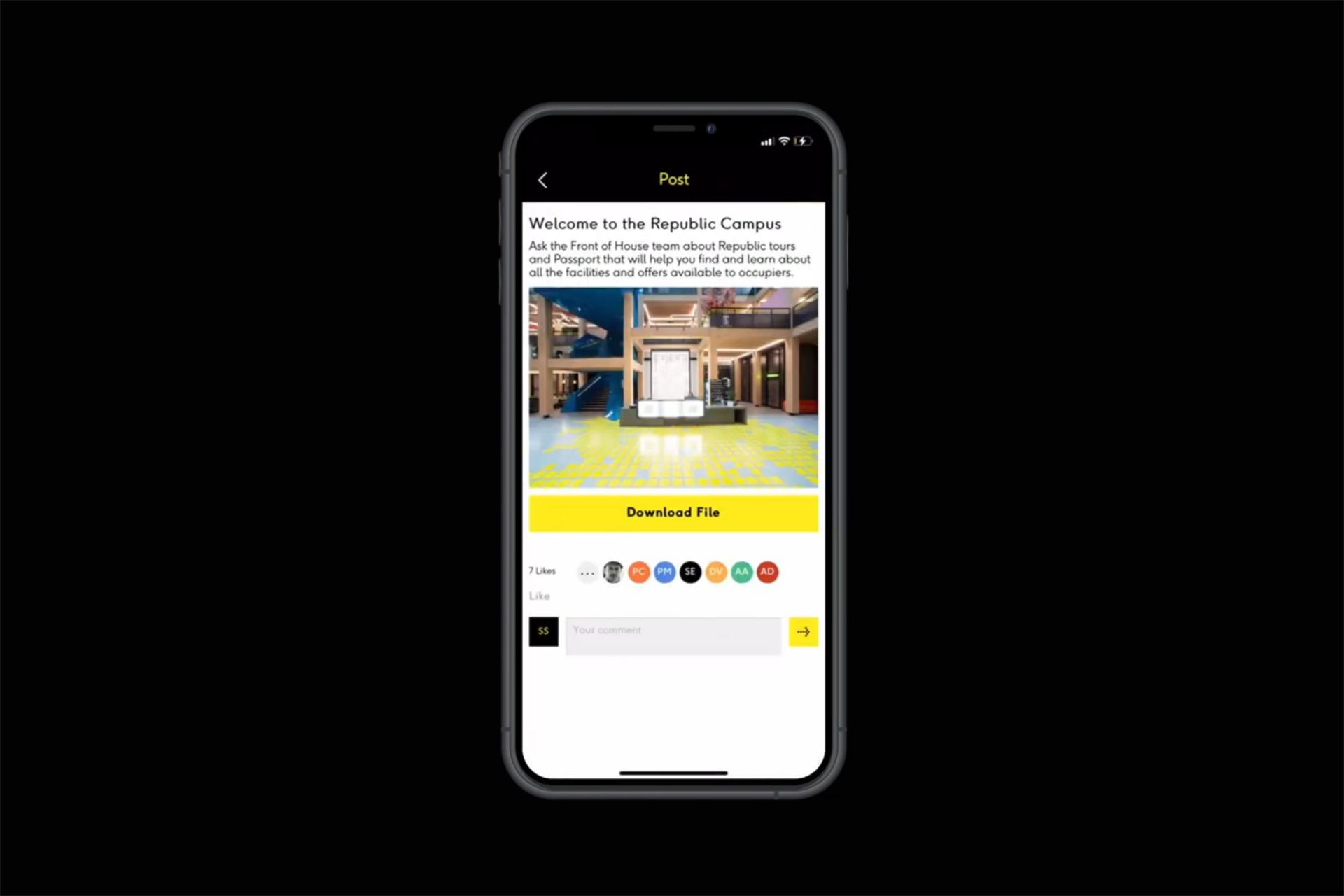 Whether it's a bespoke app for a multi-occupier campus office, or a simple off-the-shelf product, the key is that the technology is only as good as the onsite teams running the building. The front-of-house, facilities and property management teams must be engaged in making sure the information on the app stays relevant and up to date. It is vital to pinpoint what makes the app most beneficial to users, and what works in the best way for them.
In short, no matter how sophisticated the technology, it's nothing without consideration of occupier needs, effective implementation, and close engagement with occupiers to encourage usage.
Can tenant engagement apps enhance the occupier experience? Not unless it has the right team behind it.
Read more about our approach to Building Community across our managed portfolio.